FAQ:

Q: Do you have volume discounts?

A: Yes we do, you can have the most efficient volume quoted for your production.


---
Q: Can you make custom parts to match certain specifications?

A: Absolutely. Most of the parts we make are tailored to our individual customer's specifications, therefore most of the work we do is customized. Our equipment allows us to offer customized parts with high-speed production at very competitive prices.


---
Q: Why should I have Audubon Block Co. produce my corner blocks, glue blocks and cleats?

A: We can quickly and easily help you lower your costs while increasing your plant's safety and productivity:

* You will save money - You can buy these support pieces from us for less than you can produce them yourself. This means your production costs will be lower.

* You can improve plant safety - Producing small blocks and cleats is frequently a hazardous task. A slight error can lead to an injured employee in a split second.

* You will improve productivity - Producing small peripheral pieces like blocks and cleats in your plant is usually labor-intensive, low-marginal-return activity. By letting our automated, low-labor process produce your support pieces, you will free human resources, machinery & space for more productive allocation.


---
Q: How are your blocks measured?

A: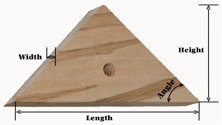 ---
Q: What will I do with my scrap wood if I don't use it to make small blocks?

A: Many alternatives exist today for wood waste. Mulch, animal bedding & boiler fuel are some of the more valued uses.


---
Q: What do you do with your scrap wood?

A: 100% of our wood waste gets recycled into animal bedding.